Manchester United takeover: Sheikh Jassim's £5bn offer remains on table but concerns Glazer family will not sell
Sheikh Jassim has made five bids to buy Man Utd, making his final offer to buy 100 per cent of the club in a debt-free deal on June 7; sources close to the Qatari bid believe the process has stalled amid concerns the Glazer family are not sure they want to sell
Kaveh Solhekol
Sky Sports News Chief Reporter
Wednesday 23 August 2023 14:05, UK
Please use Chrome browser for a more accessible video player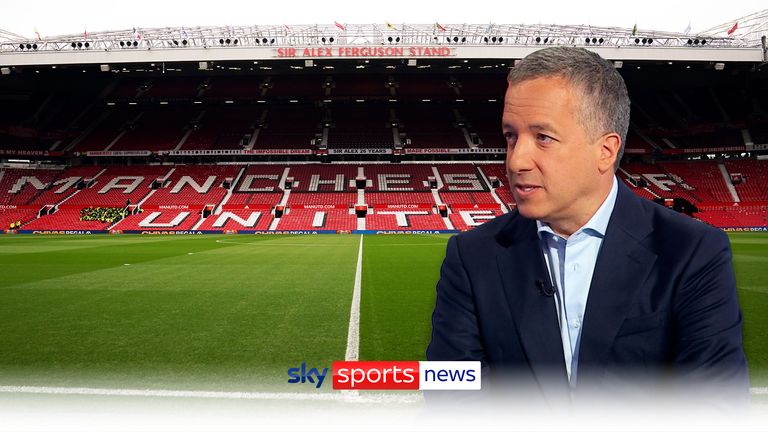 Kaveh Solhekol reveals the sale of Manchester United to Sheikh Jassim has stalled and there are concerns from the potential buyers that the Glazer family are unwilling to sell the club
Sheikh Jassim still wants to buy Manchester United and his £5bn offer for the club remains on the table.
But sources close to the Qatari bid believe the process has stalled amid concerns the Glazer family are not sure they want to sell.
Sheikh Jassim has made five bids to buy United, making his final offer to buy 100 per cent of the club in a debt-free deal 11 weeks ago on June 7.
Man Utd fixtures | Results | Premier League table
Get Sky Sports | Download the Sky Sports app
British billionaire Jim Ratcliffe has made rival bids to buy 69 per cent of the club owned by the Glazer family in a phased takeover.
Sheikh Jassim's bid team are aware of reports he is close to buying Manchester United, but as far as he is concerned the situation has not changed.
Trending
Transfer Centre LIVE! Gravenberch, Doku, Balogun latest
Qatari £5bn Man Utd bid still on table but concerns Glazers won't sell
Tactical analysis: How teams are utilising the box midfield
Man Utd transfers: Ten Hag makes 'express request' for Amrabat
Papers: Sheikh Jassim to complete £6bn Man Utd takeover by mid-October
Liverpool transfers: Liverpool consider shock move for Phillips
Lionesses 'keeper Earps calls out Nike as shirt saga rumbles on
FREE STREAM: Manchester Originals vs Southern Brave
Rapinoe: Rubiales kiss highlights misogyny and sexism in Spanish FA
Sheffield Utd agree £18m deal for Aston Villa forward Archer
Sheikh Jassim is not going away but ultimately it is up to the Glazers to decide if they actually want to sell the club.
The longer the process drags on the more it costs the bidders as they all have to pay bankers, advisers and lawyers. However, the bidders are ready to move quickly if the Glazers decide to sell.
Also See:
Man Utd transfers: Eight first-team players to exit | Kim's Napoli goodbyes?
Latest Man Utd news
Download the Sky Sports
Get Sky Sports
As far as transfers are concerned, the Qatari bid has never identified any targets or talked about potential signings because their focus has been solely on buying United.
However, the window would have been different for United if the club had been sold and still can be in the future.
Sheikh Jassim remains committed to wiping out United's debts, investing in infrastructure, the men's and women's team and the academy.
The Glazers announced in November last year they were considering selling the club.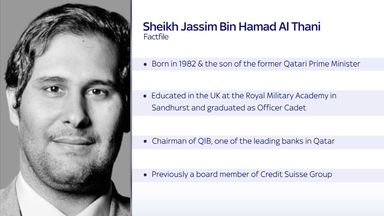 In a statement, United said their owners would look at options to bring in new investment including «a sale or other transactions involving the company».
The Glazers bought United in a controversial £790m leveraged buyout in 2005, which involved borrowing more than £500m and loading their debt on to the club.
Servicing that debt has cost United more than £1bn, while United's latest accounts revealed the club's debt stands at £725m.
Sir Jim and Sheikh Jassim publicly confirmed initial offers in February. The third and final round of bidding concluded on April 28 but, with reports claiming a revised offer from Ratcliffe and INEOS had put them in pole position to acquire United, Sheikh Jassim moved again.
Timeline of Man Utd takeover process
November 22, 2022: The Glazers confirm they are open to a sale but say other options «including new investment» will be considered.
February 17, 2023: Sir Jim Ratcliffe and Sheikh Jassim Bin Hamad Al Thani make rival bids for Man Utd takeover. Qatari wants to buy 100 per cent of the club.
February 18, 2023: US hedge fund Elliott Management lodge proposal for investment in Man Utd.
February 28, 2023: Glazers split on sale after bids fail to meet £6bn valuation.
March 5, 2023: Sheikh Jassim and Ratcliffe make it through to next stage of the process along with unnamed bidder.
March 10, 2023: Elliott Management make it through to the second stage of the Man Utd sale process.
March 16 & 17, 2023: Qatari group and Sir Jim Ratcliffe meet Raine Group at Old Trafford before being given access to detailed financial information. Sheikh Jassim stays away.
March 22, 2023 :Raine extend deadline for second bids after requests from Sheikh Jassim and Ratcliffe. Elliott Management did make minority stake offer before the soft deadline.
March 23, 2023: Ratcliffe makes his second bid.
March 24, 2023: Sheikh Jassim makes his second bid.
April 11, 2023: The Glazers take the sale process to a third round with interested parties asked to submit final offers by end of April.
April 28, 2023: Sheikh Jassim makes world record bid valuing Man Utd. Ratcliffe also makes his offer before the deadline.
May 16, 2023: Sheikh Jassim goes in with fourth bid close to £5bn. INEOS proposal values Man Utd at a higher price but is not for the whole club and would give Glazers chance to keep 20 per cent stake.
June 7, 2023: Sheikh Jassim submits a fifth improved bid
INEOS values United at a higher price but their bid is not for the whole club and would give the Glazers the opportunity to keep a 20 per cent stake.
Are the Glazers willing sellers?
Sky Sports News' chief reporter Kaveh Solhekol:
«Sheikh Jassim is waiting for an answer from the Glazers, and he hasn't got that answer, but he remains interested.
«A lot of people involved in the process believe the Glazer family are not all committed to selling the club. There are different members of the Glazer family, some might want to sell the club, others think it's not the right time.
«There were reports today that the Qataris were close to buying Manchester United, they would be delighted if that was the case. But I think, as far as they are concerned, nothing has changed. They are willing buyers but they are not convinced that the Glazers are willing sellers — and to do a deal, you have to have a buyer and a seller.
«Sir Jim Ratcliffe has made multiple bids but he only wants the 69 per cent of the club that is owned by the Glazer family — and that bid is a phased takeover. There are other people involved who just want to invest in the club.
«So the Glazers have loads of options, but we have to make it clear that they have never come out and said that they want to sell Manchester United. Back in November, they said they wanted to bring in new investment which could potentially lead to a sale as a range of options of things that would happen.
«A lot of Manchester United fans want the takeover situation sorted out as quickly as possible. They feel this has dragged on too long. People thought it was going to be done before the transfer window opened, people thought it was going to be done before the season started.
«For whatever reason, it hasn't happened. Some Manchester United fans are disappointed and some are angry that it has taken so long. At the end of the day, the club belongs to the Glazers.»
Источник https://www.skysports.com/football/news/11667/12945698/manchester-united-takeover-sheikh-jassims-5bn-offer-remains-on-table-but-concerns-glazer-family-will-not-sell
Источник
Источник